---
Lisboa RealOps coming soon!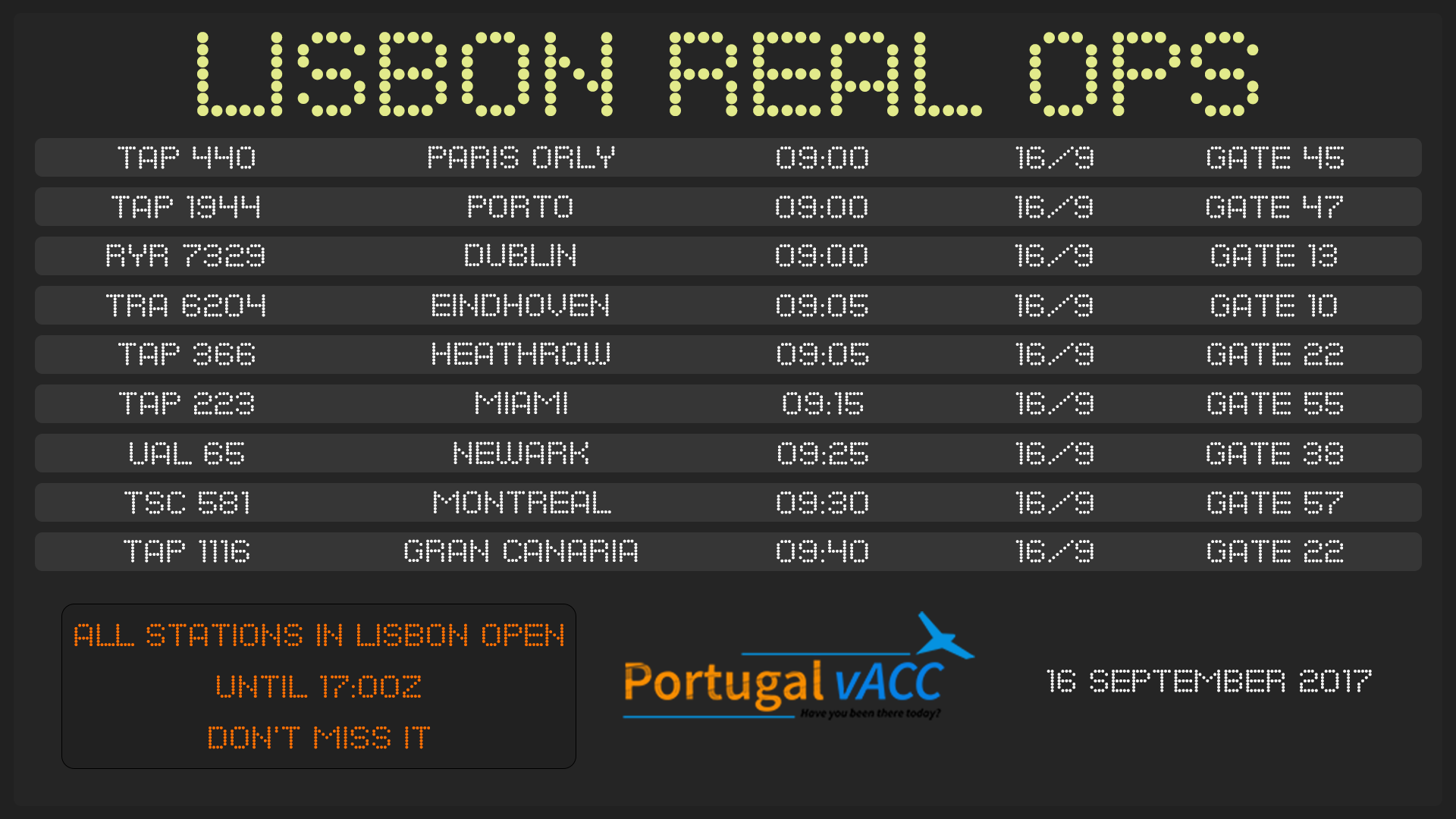 Our yearly event is back. This time on September 16th from 09z till 17z. Controllers will be sitting together live in the same room. At this time of the year you never know how the weather will be. We can be having a hot hot summer day or a whole mess of rain, fog and whatever more comes along. So come and enjoy Lisboa. Book early to get your favourite flight.
---
Portugal vACC Online Day
Our official online day event is back to our skies. Every Tuesday from 1930z onwards we will have Portugal vACC's online day. Expect traffic, ATC, different approaches and more. Click here for more information.
---
Portugal vACC now has its own pilot ratings. Pilots wishing to evolve and learn more: click here for more information.
In the meantime, Portugal vACC has earned the ATO certification by VATSIM. We are now an Authorized Training Organization and are entitled to award the VATSIM ratings.
---
Portugal vACC - Been there today?
Our main mission is to provide Air Traffic Services in the Flight Information Regions (FIR) under Portuguese responsibility - Lisbon and Santa Maria, ensuring that VATSIM and VATEUD regulations are complied within the best safety conditions, emphasizing efficiency by means of encouraging virtual Air Traffic Controllers mobility, improving their training conditions.
We have a dedicated and professional team at your service!
We are always looking to improve!
Submit your FEEDBACK
---
Iron Mic Awards
Iron Mic Awards
View the iron mics won in the past.
---
vACC Chart Center
Pilots and controllers are encouraged to access our chart center with chart information for all LPPC main airports. This is an essential tool for a better experience at our airports.